Quickly Recover Lost Data from Water-Damaged iPhone 11
Although iPhone 11 is advertised to be waterproofed, it would still cause data loss if iPhone 11 was water damaged. As you know, the electric devices are easy to be damaged e water. If you dropped iPhone 11 into water directly, the iPhone 11 was splashed by water, or iPhone 11 was placed in a very damp environment, it would cause damage to the iPhone 11 and lose data on the device. Is there a way to fix the water damaged iPhone 11? How to recover lost data from water-damaged iPhone 11? Here on this page, we will sure to give you're the answer, please just read on.

Save your iPhone 11 from water-damaged first
First, if your iPhone 11 was dropped into water, please don't turn on the iPhone 11 immediately after shaking the water. As you all know, water and electronics don't go together, otherwise, it would damage the device totally. Even if you have rubbed it down, there will still be water inside the iPhone 11 that has trickled in from numerous sources.
Second, you need to find a good way to dry the iPhone 11 completely. Normally, it will take days for the water inside to evaporate at room temperature. So it's better to find a better way. The most efficient way is to use silica gel packets. They typically come in small paper sachets. Just place the wet iPhone 11 in a sealed container with silica gel packets. As a very good desiccant, it can dry the iPhone 11 very quickly.
If you don't have silica gel packets at hand, then white rice can be an alternative for you. It has been known to work in such a case. It's highly suggested to leave the device encased in rice for 24 hours, and repeating the process with a second portion of rice. We suggest you be patient, the longer you leave the device to dry the more likely it will still work when you turn it on again.
How to recover lost data from water-damaged iPhone 11?
If there was data loss from the water damaged iPhone 11 or the water damaged iPhone 11 just cannot work anymore, what should you do? Don't be panic. TogetherShare iPhone Data Recovery can help you recover lost data from water-damaged iPhone 11 or extract the data from your iTunes backup. Just download it now.
Here are the steps needed to recover lost data from water-damaged iPhone 11 with TogetherShare data recovery software for iPhone.
Step 1. Choose the recovery mode.
If the water-damage iPhone 11 can still work, connect it to your computer. Run the iPhone data recovery software and choose Recovery from iOS Device to recover lost data from water-damaged iPhone 11 directly. Otherwise, select Recovery from iTunes Backup to extract lost data from iTunes backup files.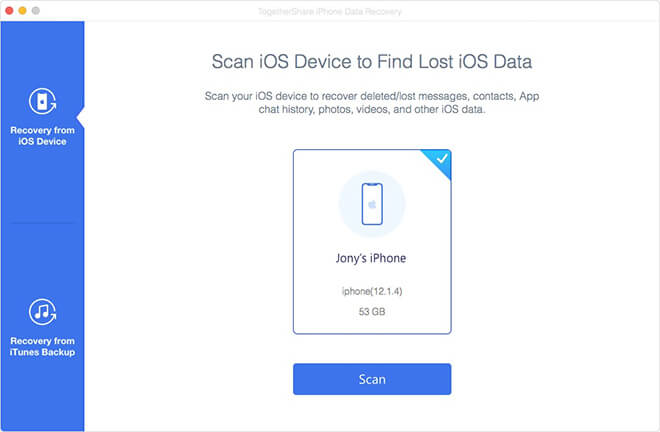 Step 2. Scan and analyze.
After click the Scan button, the software will automatically scan the devices or analyze the iTunes backup. It will do the best to help you find the lost data. So please just be patient.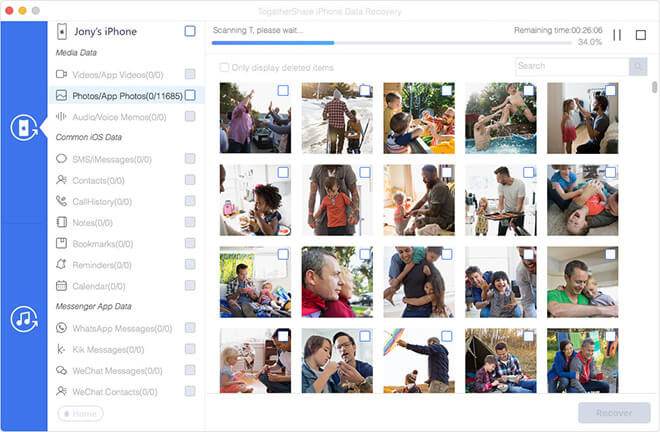 Step 3. Preview and recover the lost data.
If the scan process is finished, you can preview all the items first. Then only select the needed items to recover and save them to your computer.
TogetherShare iPhone Data Recovery can help users to retrieve lost call history, contacts, messages, photos, audio, videos, WhatsApp messages, WeChat messages/contacts, Kik messages, bookmarks, and other iOS data from iPhone, iPad, and iPod touch. Just download it to get back your lost data in any data loss scenarios.