Recover Lost Data from Transcend SD Card
Data recovery software for Transcend SD card
Here on this page, I will share a professional Transcend SD card data recovery software for users. Transcend SD card is usually used for digital camera. With the incredible transfer speeds, Transcend SD card allows professional or amateur photographers and to capture photos and ultra-high quality videos.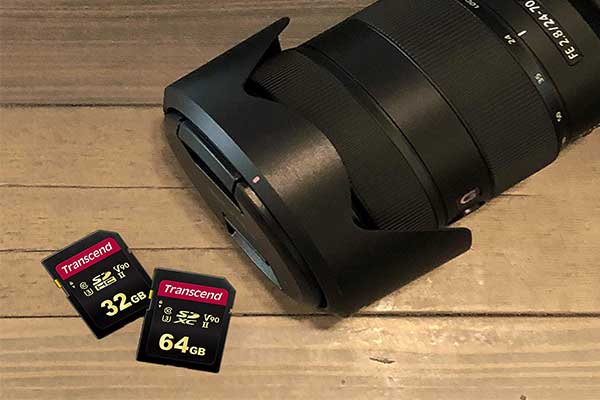 Although Transcend SD card is mostly reliable and durable, there will be issues happen on the card. Or the card many be damaged somehow. You may want to fix the issues and repair the card. However, it's recommended to recover the the lost data from Transcend SD card first. In order to recover lost files effectively, I suggest you download the trusted memory data recovery software - TogetherShare Data Recovery.
When do you need Transcend SD card data recovery software?
Normally, you need Transcend SD card data recovery software when you lose files on the card. There are some cases lead to data loss on Transcend SD card:
Deleted files from Transcend SD card. Sometimes, users may deleted the files from Transcend SD card on camera or computer. You may just deleted needed ones when you try to delete blurred photos/videos.
File system crashed on Transcend SD card. If the file system get corrupted, you will not be able to access or open the Transcend SD card. Then you cannot view and use your photos/videos on the card.
Transcend SD card gets formatted. If you unintentionally format the Transcend SD card, you will find that all your files on the card are missing.
Deleted volume from Transcend SD card. All the pictures and video clips will be deleted if you delete the volume on Transcend SD card by mistake.
Lost files because of human errors. If you unplug Transcend SD card without safe ejection or during it's in use, the card would be damaged and lose the files on the card.
Files missing for unknown issues. Sometimes you may just find the files are missing from Transcend SD card when you open the card in camera or computer.
Actually, there are many other different cases will cause data loss for Transcend SD card. In such a case, please don't be panic. First, please stop using the card to re-shoot videos and photos. Then please use TogetherShare memory card data recovery software to recover lost files.
How to perform Transcend SD card data recovery?
Here are a few steps needed to recover the lost files from Transcend SD card. If you follow the steps one by one carefully, you will get back lost Transcend SD card files easily with the software. Now I will show the tutorial for users.
Step 1. Connect and choose Transcend SD card.
First, please insert Transcend SD card to a card reader. Connect the card reader to the computer. Then run the data recovery software and select the card to scan.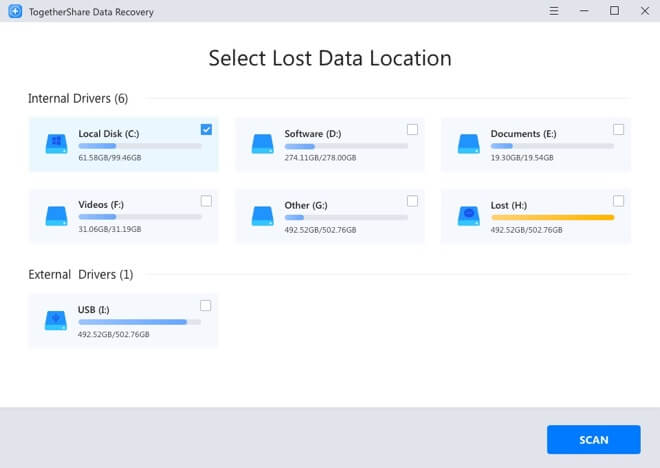 Step 2. Scan Transcend SD card for lost files.
The software will then scan the Transcend SD card quickly. It will be fast to search for the lost files from the card and show all the found files during the scan process.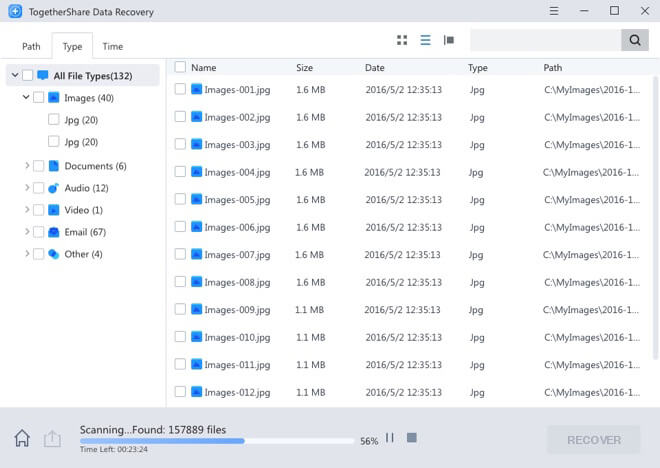 Step 3. Preview and recover lost files from Transcend SD card.
Once the scan process is finished, the software will list all the found files in folder structures or by types. Please check and preview the files first, then only select the wanted files to recover.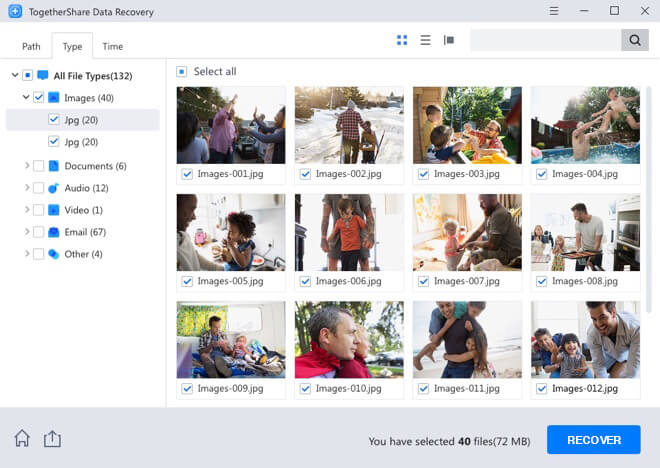 If you also lost files from hard drive, SSD, USB flash drive, you may want to know if this software can also work. Yes, this software can also help you exactly. TogetherShare Data Recovery is a very comprehensive software can recover lost files from those storage media. Just download the software directly to have a try first.