Effective Method to Recover Lost Photos/Videos from iPad
Summary: One of the most commonly used features of iPad is taking photos and shooting videos. Many users store their photos and videos directly on the iPad. If there are some issues happen, the photos and videos stored on the iPad will be lost. Users can still be able to recover the lost photos and videos from iPad. But users need to find a professional data recovery tool for iPad and follow the guide to recover lost data.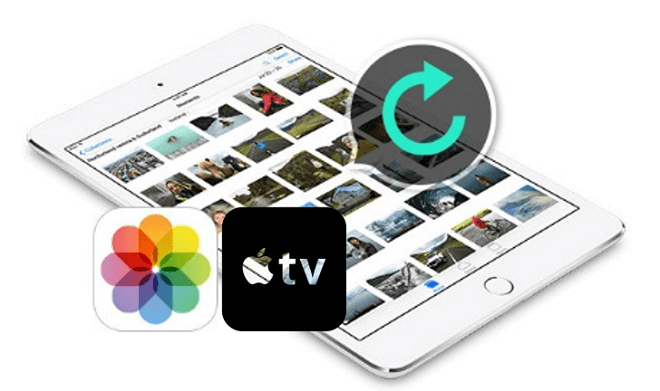 iPad is a very commonly used removable digital devices nowadays. Because of the high performance and wonderful features, iPad is widely used all around the world. Most iPad users like to take photos and videos with the iPad. If users are not careful enough and lose the photos and videos from iPad, we recommend reliable software for you to get back the lost photos and videos. We will show you all the detail information and how to recover lost photos and videos from iPad on this page.
Common reasons for photos and videos loss on iPad
Here are many reasons for photo and video loss on iPad. Intentionally or unintentionally, iPad users may lose photos and videos. For example:
Delete photos and videos from iPad by mistake.
Lose photos and videos due to application issues.
iOS crash on iPad causes photo/video loss.
Reset system on iPad and lost photos and videos.
Other unknown issues for iPad photos/video loss.
If users suffer the above issues, they may lose the photos and videos from iPad. For iPad users, it's very panic to lose photos and videos. They would be worried and want to retrieve the previous photos and videos from iPad. Normally, some users would have iTunes backup or iCloud backup for the photos and videos on iPad. However, not all the iPad users back up their data on iPad. So if you lost photos and videos from iPad without having a backup, the best method is using a reliable data recovery software to recover the photos and videos.
We recommend TogetherShare iPhone Data Recovery to recover lost photos and videos from iPad. It can recover lost data in different data loss scenarios on iPad. To perform the data recovery job on iPad, please first download the software first.
How to recover lost photos and videos from iPad?
There are only 3 steps to recover the lost data on iPad with TogetherShare iOS recovery software. With the software, you can easily recover the lost photos and videos from iPad. The interface is very simple, so iPad users can use this software with ease. To help you better to finish the photo and video recovery with the software, we provide the following steps for you.
Step 1. Connect and choose the iPad.
If you lose photos and videos from iPad, please connect the iPad to the computer first. Then launch the application and choose the iPad from the software, then click the Scan button.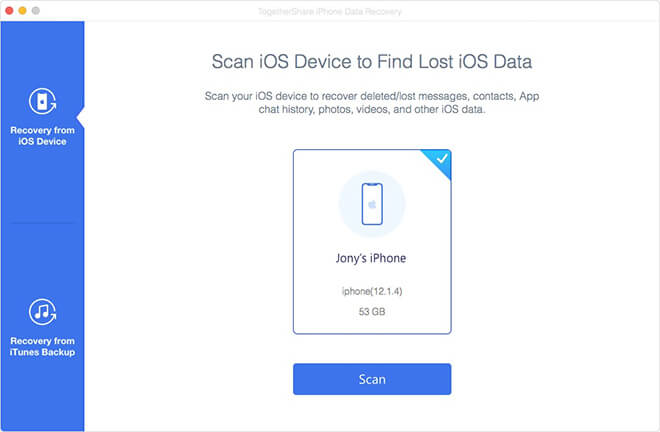 Step 2. Scan the iPad for lost data.
The iOS data recovery tool will automatically scan the iPad, and then it will deeply analyze the iPad to find the lost photos and videos from iPad.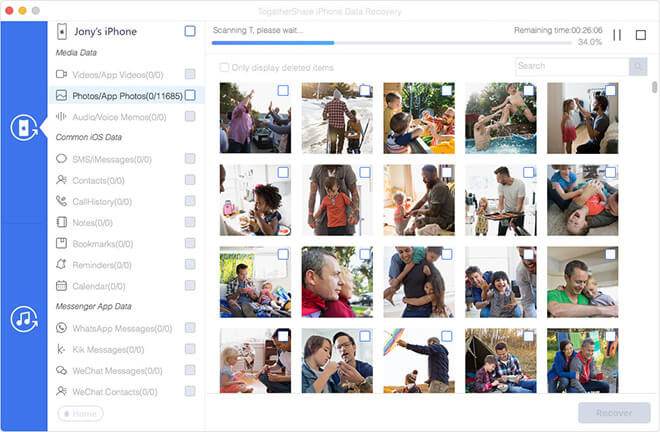 Step 3. Preview and recover the lost data.
Once the scan process is finished, you can easily preview the photos and videos in the software directly. Then please check and select the wanted photos and videos to recover.
This iOS data recovery tool supports recovering lost contacts, photos, videos and other files from iPad, iPhone and iPod touch. It can recover more than 14 types of lost data from iOS devices, including photos, videos, messages, contacts, call history, reminders, calendars, WhatsApp messages, WeChat messages, Kik messages, Notes, etc. This software is available in both Windows and Mac machines. Please check and ensure to download the proper version for your own needs.