Best Data Recovery Software for HD/4K Videos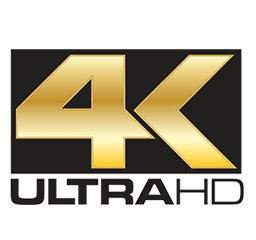 With large resolution and better visual experience, HD/4K videos are more and more popular in recent years. Users like to download HD/4K videos to enjoy better quality of films or other television work. Mostly, users will store their favorite HD/4K videos on there computers or other removable media players, such as MP4 players, smartphone, tablet, and so on. Users can enjoy the best quality of videos on computer or portable device anywhere. It's really cool to watch HD/4K videos.
Mostly, users will be careful to keep there data safe. However, it cannot avoid any issues that will cause data loss of their precious HD/4K videos. Users will lose their HD/4K videos in the following data loss situations:
Delete HD/4K videos from their devices accidentally.
Drive/device gets formatted and lose the HD/4K videos.
Cannot access the drive/device where the HD/4K videos stored.
File system of drive/device damaged and the HD/4K videos get lost.
Interruption occurs when transferring and the HD/4K videos are missing.
System update or crash causes data loss of HD/4K videos.
Remove removable device directly and lose the HD/4K videos.
Drive is damaged/dropped and the HD/4K videos are lost.
HD/4K videos are missing for unknown issues.
If you lost HD/4K videos, don't be panic and nervous. There is still a chance to recover lost HD/4K videos in most data loss cases. The fast and easy way is using a data recover software to retrieve the lost videos. To recover the HD/4K videos, you need a professional data recovery tool for videos. We suggest you download TogetherShare Data Recovery to have a try first.
How to recover lost HD/4K videos?
First, if you want to recover lost HD/4K videos with best result, please keep in mind that don't add new data to the drive/device after losing HD/4K videos. Also, please don't edit the existing data on the drive/device. Then the lost data will keep intact without changing. Then there will be a high chance to recover the videos.
Second, please run the video data recovery software and follow the wizard carefully to recover lost HD/4K videos. To avoid any wrong operation, here I will share the simple guide for HD/4K video recover. Follow the guide step by step, then you will recover the lost videos effectively and quickly.
Step 1. Choose the drive/device.
After running the software, you will see all the drives/devices connected on the computer. Please ensure to choose the correct one that contains the lost HD/4K videos. Then please click Scan button to continue.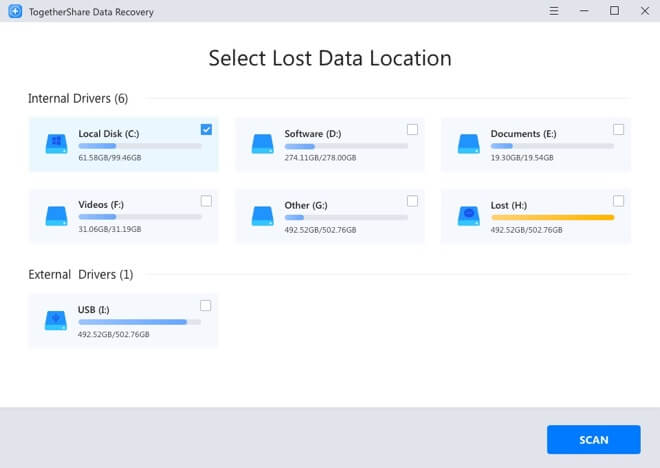 Step 2. Scan the drive/device.
The software will scan the drive/device automatically with advanced data recovery methods. It will analyze the disk and search for the lost HD/4K videos deeply.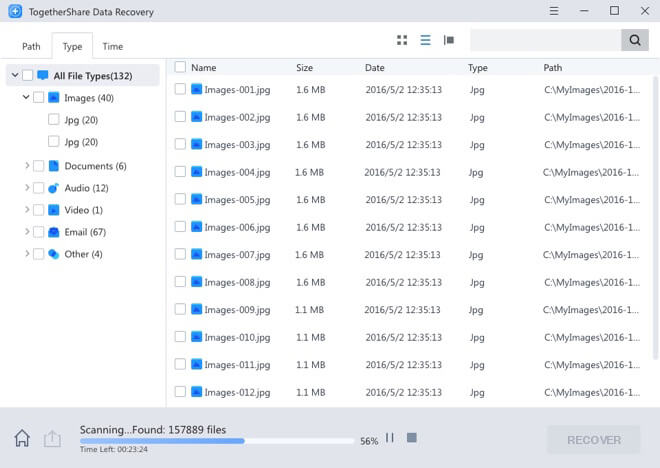 Step 3. Preview and recover lost HD/4K videos.
If the scan process is finished, you will find all the lost HD/4K videos are displayed in the software. You can check if the integrity of the files by previewing the videos. Then select the wanted and recoverable HD/4K videos to recover.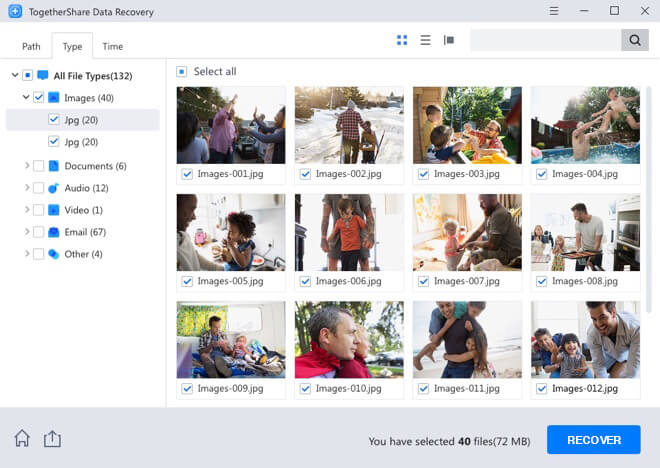 TogetherShare Data Recovery is also able to recover lost MP4, MOV, FLV, MXF, AVI, RM, RMVB, and other formats of videos for users. Besides videos, it also supports data recovery for documents, photos, audio files, emails, archives, and many other types of files. You can only download the software to have a free trial first.