Different Ways to Format Hard Drive on Windows

Drive sometimes will needed to be reformatted for some reasons.If you want to change the file system for some specified goal, fix file system errors, or just remove data completely for further use, you will need to format the drive. How to reformat hard drive on Windows? If you want to format a drive on Windows, there are many options and methods to help you. Here we will show the most popular 4 ways to format a hard drive on Windows.
Reformat hard drive in Disk Management
The first method users used widely is to reformat hard drive in Disk Management. Disk Management is a built in Windows disk/partition management tool. It provides the option to format hard drive easily. You can refer to the following guide to reformat hard drive on Windows step by step.
Step 1. First, please open Disk Management. Pres "Win + R" keys to open Run and enter "diskmgmt.msc" to open Disk Management.
Step 2. Choose the drive that you want to reformat in the list. Right click the drive and click "Format...".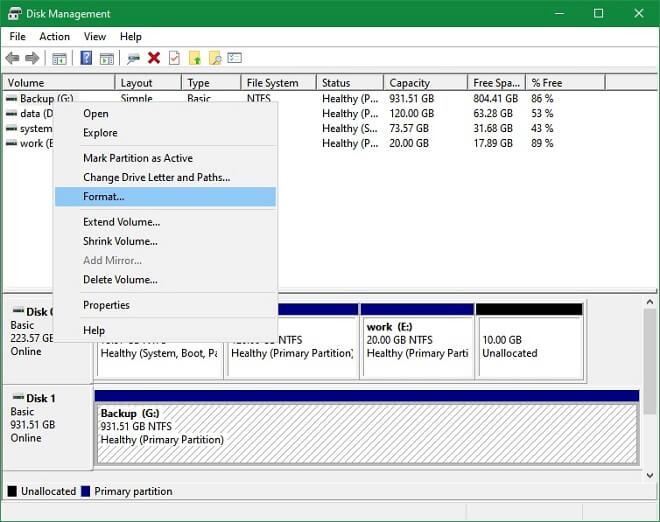 Step 3. Enter or choose the Volume label, File system, Allocation unit. Click the OK button to start the formatting process.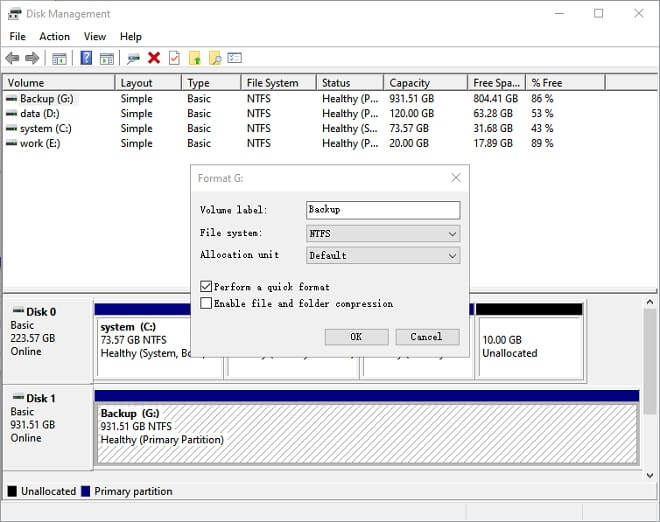 Once the process is done, you will have a new empty drive for further use. Also, all the previous data on the drive is removed. So please ensure to back up or move your important data to another drive before you try to format the hard drive.
Reformat hard drive in Windows Explorer
There is another easy and simple way to reformat a hard drive. Actually, it's more easy for users to do the job in this way. You can just choose the drive which you want to re format, right click the drive and choose the option "Format...", then choose the new File system (like NTFS, ExFAT, FAT32, etc.), Allocation unit size, Volume label, and so on. At last, just click the Start button to format the drive directly.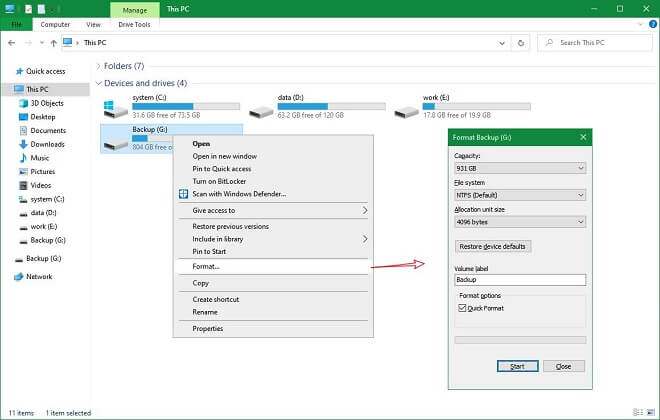 Reformat hard drive in command with diskpart
If you are familiar with and more skillful at using command line, you can also try to reformat the hard drive in with commands instead. First, please open Command Prompt windows and run diskpart. Choose the drive that you want to format and reformat it by the following command:
Format fs=file_system label="drive_label" quick
file_system: You can assign it as your wanted file system, including NTFS, FAT32, and so on.
drive_label: Please assign a new name for the drive after formatting.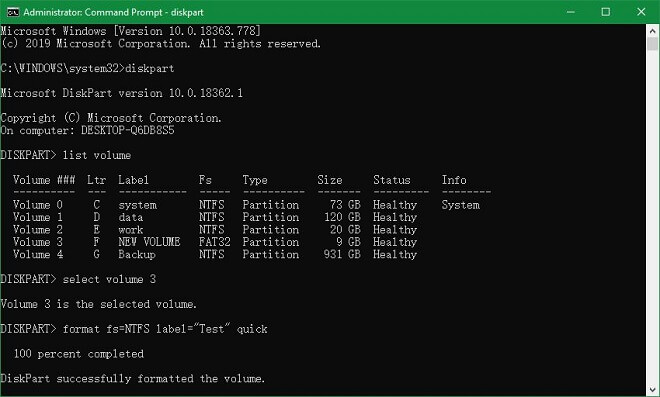 Reformat hard drive with third party software
At last, there are also many third party partition manager tools in the market. These partition manger tools are used to do some complex jobs that the Disk Management cannot do. Also, these tools also provides the basic operations, including formatting hard drive.
To help you format hard drive on Windows easily, we suggest you a very simple tool - TS DataWiper. This is a data wiping tool but can also help you format hard drive easily and completely on Windows. Please first download the software to try and have a quick glance.
First, it provide a simple format option in the software to format hard drive on Windows directly. Please first run the software and choose Disk Tool. The choose the drive that needs to be reformatted from the list, click the Format button to format it directly.
Actually, the software can also format the drive in another way. You can use Erase Hard Drive option to format the hard drive. Please note that if you choose this option, it will not only format the hard drive, but also it can erase all the data on the drive permanently. The wipe data on the reformatted drive will not be recovered by any data recovery software. So please be careful before using this option to format the drive. Otherwise, you will lose the lost data for good.
Normally, you can use all the above mentioned methods to format any other drive/device, including SSD, external drives, memory card, USB flash drive, and so on. Moreover, TS DataWiper can also help you erase all your sensitive data from your drive or device permanently. So if you need to also wipe data in some cases, you can choose and download this software to help you.