Shred Data to Prevent Deleted File Recovery on Mac
Sometimes when you trying to delete of after deleting files, you will want to prevent data recovery. Normally, if you delete files on Mac simply, it's still able to recover the deleted files with many Mac data recovery software. For example, you can use TogetherShare Data Recovery for Mac to recover deleted files on Mac easily. So to prevent deleted file recovery on Mac, it's not enough to only deleted files and empty the Trash bin. Actually, even by formatting the drive, you cannot completely prevent deleted file recovery on Mac.
What's the most reliable solution to prevent deleted file recovery on Mac? Actually, it's very easy to achieve the goal by shredding the deleted files permanently. If you shred files with a professional data erasure tool, there will be no chance to recover the deleted files in any way.
We suggest you try TS DataWiper for Mac to help you shred deleted files directly. This software is most trusted and professional data erasure software in the market to wipe data. With the international standard of data wipe algorithms, it can wipe data completely and cannot be recovered. So please feel free to download this tool to wipe your files without worrying about data breach.
How to shred data and prevent deleted file recovery on Mac?
The software is very simple and provides very easy-to-use interactions and interface to erase data. It provides three modes to shred files or wipe data permanently and prevent deleted file recovery on Mac. Here we will introduce the three modes in detail. Then you can check which mode is proper for you to shred files or erase data on Mac.
Mode 1. Delete and shred individual files on Mac.
First, if you want to delete some files permanently on Mac, you can choose this mode. You can choose the files in the software directly and then click the Erase Now button. It will then delete and shred the files permanently.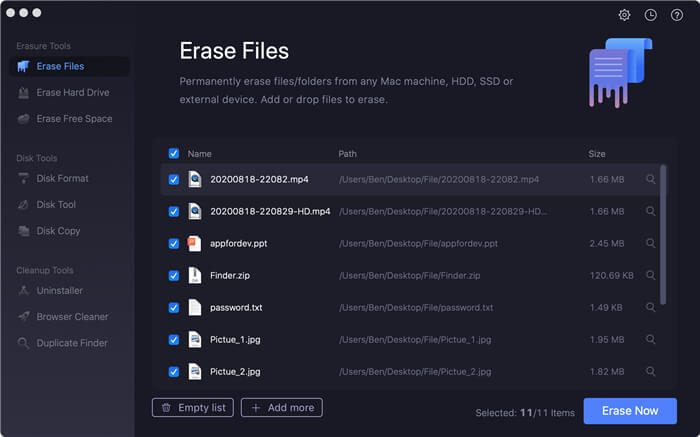 Mode 2. Erase hard drive to wipe data on Mac.
Also, you can choose the entire drive to wipe directly. It will deleted all the existed files and wipe the deleted or lost data on the drive completely.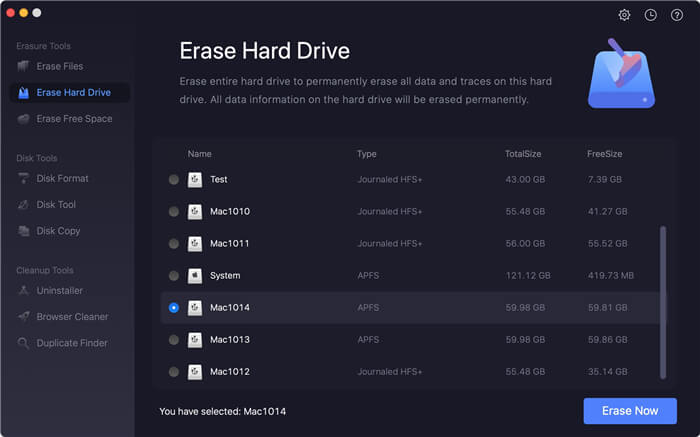 Mode 3. Erase free space of drive to prevent deleted file recovery.
If you have deleted some files first and now want to ensure the deleted files are not recoverable, you can choose the mode to wipe the free space of the selected drive. It will deleted all the lost data including the deleted files.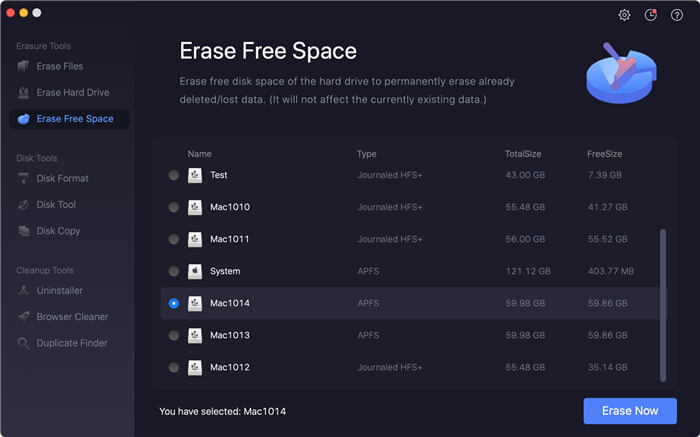 TS DataWiper for Mac is able to wipe deleted files or any other data on Mac completely. Also, it supports data wiping from hard drive, SSD, memory card, USB flash drive, or other drive on Mac. Besides, the software works very well in different Mac systems. For instance, the software can wipe data in macOS Catalina, macOS Mojave, or any other systems on your Mac machines.