Shred Files in macOS 10.13 High Sierra
Some Mac users need to shred different files on macOS 10.13 High Sierra regularly, including pictures, video clips, documents, or any other files. Simply delete or format the drive actually cannot erase the file permanently from your Mac machine in macOS 10.13 High sierra. In order to keep your privacy information safe, it's necessary to choose a reliable data erasure software to shred your files permanently and avoid data recovery.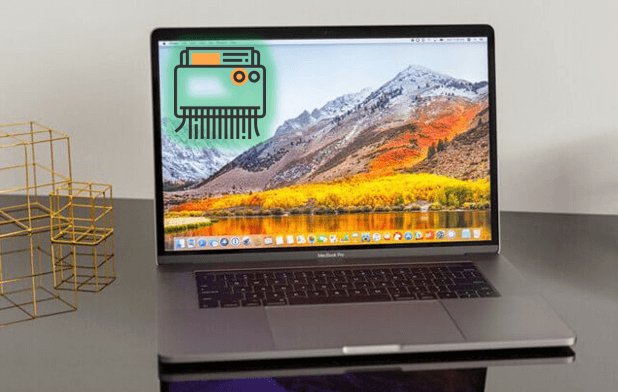 TS DataWiper for Mac, as a reliable and simple file shredder for macOS 10.13 High Sierra, is highly recommended for Mac users to shred files. Before we start to introduce more information about the software, you can even download the software to have a try first.
With simple and intuitive interface, any users ca operate the software to accomplish the data erasure task easily with this file shredder for macOS 10.13 High Sierra. The settings and operations is also very simple. You can just choose a proper option to do your own job directly.With only a few clicks, you can easily erase data from SSD, external drive, memory stick, USB flash drive in macOS 10.13 High Sierra.
The most concern thing for users is whether the software can shred files completely. Actually, the software have applied international algorithms and an ensure the files be shredded permanently. You can choose any of the data wiping algorithms to shred files/data, including HMG Infosec Standard 5, Peter Gutmann's algorithm 2, U.S. Army AR380-19, DOD 5220.22-M ECE, Peter Gutmann's algorithm 35. It can guarantee the wiped data will not be recovered with any Mac data recovery software in the market.
Different options of the file shredder for macOS 10.13 High Sierra
Now we will introduce different options in TS DataWiper for Mac. You can use any of the options to erase your files permanently in macOS 10.13 High Sierra. Please check and then choose a proper one in your own situation.
Note:
1.Back up your important data before shredding files or erasing drive.
2.Don't use the drive/device while erasing data.
Options 1. Shred specified files/folders in macOS 10.13 High Sierra.
If you need to shred some individual files/folder frequently, we suggest you use this option. You can only choose the specified files/folder to shred directly. It will be quick without wipe the entire drive.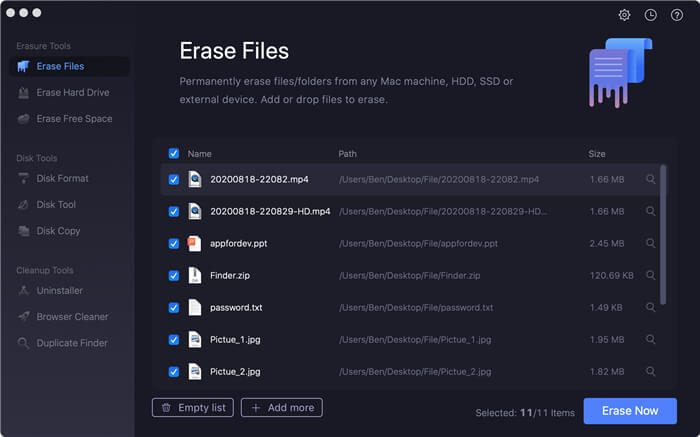 Options 2. Wipe entire volume to erase files directly in macOS High Sierra.
Sometimes, you may want to shred all the files on the drive directly. Then we suggest you choose this option to wipe the entire volume/partition. It can wipe all the files, no matter existed or lost, on the drive.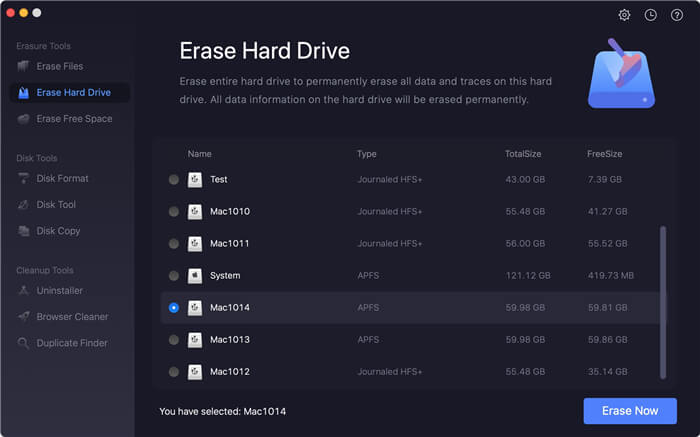 Options 3. Shred deleted/lost files in macOS 10.13 High Sierra.
After deleting some files and empty trash in macOS 10.13 High Sierra, the files are still recoverable. If you want to erase the deleted files completely, this option can help you. It will wipe all the free space to erase any lost files.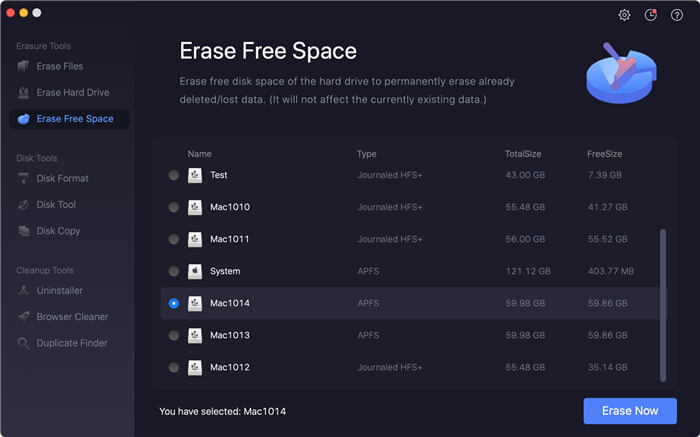 With this software, Mac users can permanently delete videos, photos, documents, audio files, and any other files in macOS 10.13 or any other Mac operating systems, ranges from OS X 10.7 Lion to macOS 10.15 Catalina. Please feel free to download TS DataWiper for Mac to help you erase data permanently.