100% Free| 3 Steps to Recover Deleted Files from USB Flash Drive
by Ava, 2019-01-06
USB flash drive is the most popular storage device to save, back up, and transfer files. However, sometimes, files on the USB flash drive will be lost due to the following reasons:
Mistakenly or accidentally delete file from the USB drive
Unplug USB drive suddenly during data process
File deletion or corruption because of virus attacks
Fragmented partition structure on the USB flash drive
Unlike the normal deletion on the computer that can be restored from the Recycle Bin, the files deleted from USB drive cannot be recovered. Then, how to make it possible to recover deleted files from USB flash drive? On this page, we'll show you an effective way to do it with a free data recovery tool.
What's the Free and Easiest Way to Recover Deleted Files from USB Flash Drive
Using an easy-to-use data recovery tool is the simplest solution to settle the data loss trouble and restore the deleted files from USB flash drive. TogetherShare Data Recovery Free is one of the most popular applications you must have a try. With this software, you can recover deleted videos, images, documents, music, and others from your USB flash drive on Windows 10/8/7/P/Vista within three steps: choosing the files you wan to recover > scan the USB flash drive > recover.
No matter your USB flash drive, or memory card, or pen drive is in exFAT, FAT, or NTFS, you can use TogetherShare to restore removed files successfully. Now, download this mature program and follow the steps below.
How to Recover Deleted Files from USB Flash Drive for Free
First, Install TogetherShare Data Recovery on your Windows computer.
Warning: Please stop using your USB flash drive when you lose files, in case newly produced data overwrite entries to the lost files.
Step 1. Select the file types to recover.
Connect your USB flash drive to your computer and open TogetherShare Data Recovery. By default, TogetherShare Data Recovery will list all the supported files. You can choose what you want and click "Next" to continue.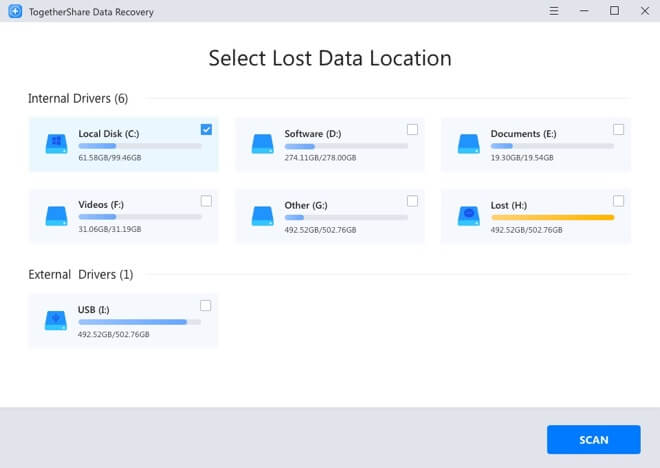 Step 2: Choose the USB flash drive to scan.
In this step, you need to choose the USB drive as the source device to be scanned. As you can see, all the partitions and external hard drives are automatically read and displayed. Then, click "Scan" to let the program to find out the deleted files.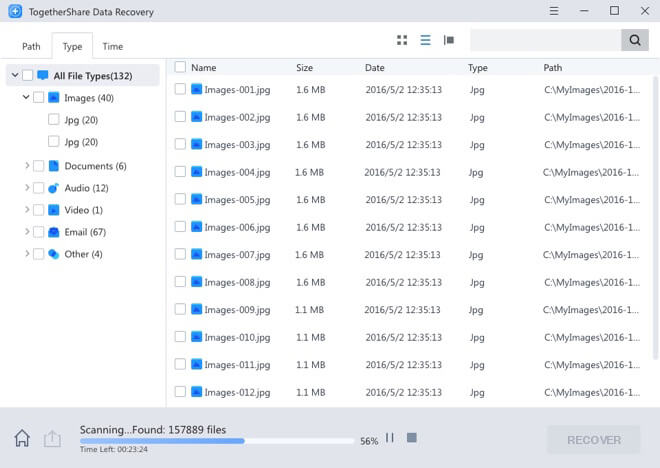 Step 3: Preview and recover the deleted files.
When the process finishes, you can preview all the discovered files. The RAW files can only be found by executing the "Deep Scan" feature. After all these done, click "Recover" to restore the needed files.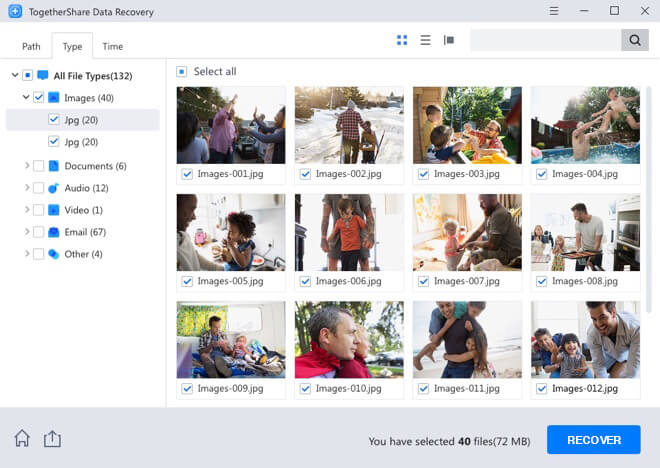 TogetherShare Data Recovery Free enables you recover up to 1GB files without any requirement. If the lost data is more than 1GB, you can update to TogetherShare Data Recovery Pro to fulfill you needs.