How to Permanently Delete Files on macOS Catalina?
The deleted files on macOS Catalina can be recovered
"Hi, I delete some files before selling my Mac. The operating system is macOS Catalina 10.15. But, after deleting the files, emptying the trash bin, the deleted files still can be found by data recovery application. Is there any way to permanently delete these files? Can any one recommend a macOS Catalina file shredder for me?" - Keth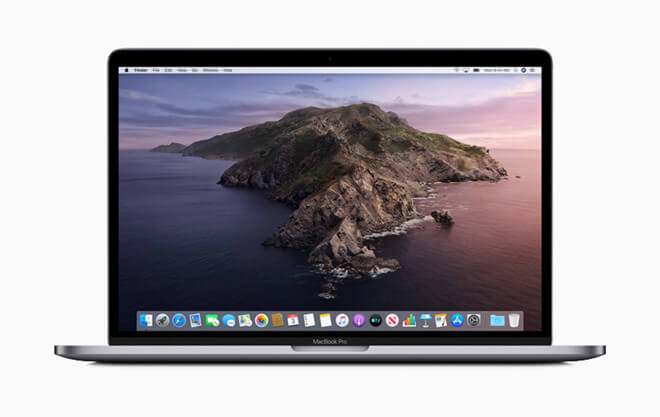 Most of Mac users know that the deleted files can be recovered by Mac data recovery software. The macOS Catalina also does not offer file shredder to help you securely and permanently delete files. To prevent data recovery, you need special data erasure software.
Some users may think the disk utility can permanently erase all data on a hard drive. It is not true. Some powerful data recovery applications - such as TogetherShare Data Recovery for Mac is able to recover data from a hard drive which is erased by Mac disk utility. So, where to find a reliable file shredder for macOS Catalina? Just read on.
Best file shredder for macOS Catalina
TS DataWiper for Mac is a reliable file shredder for macOS/OS X. If you want a file shredder for macOS Catalina, this software is a good choice. With certified data erasure standards, it will securely and permanently erase targeted files/folders, it also can help you wipe hard drive on macOS Catalina.
This macOS Catalina file shredder is very easy-to-use. No pro skills required. It means even the most newbie users can use it to delete files on macOS Catalina. It is also 100% safe, will never cause any damage to your hard drive. Some users may worry about data erasure on SSD. Don't worry. This tool will not shorten the service life of your SSD.
With TS DataWiper for Mac, you can permanently delete files from HDD, SSD, USB flash drive, memory card, digital camera, etc. It not only supports for macOS Catalina, but it also can erase data on all operating systems including all macOS versions, OS X versions, Windows operating systems and Server systems. Download it for macOS Catalina:
Permanently delete files in macOS Catalina
This macOS Catalina file shredder offers three modes to help you permanently delete files in macOS Catalina. Just try.
Mode 1: Shred files in macOS Catalina.
This file shredder will help you selectively shred files/folders on macOS Catalina. Just add files/folders to erasure list and permanently erase the selected files/folders.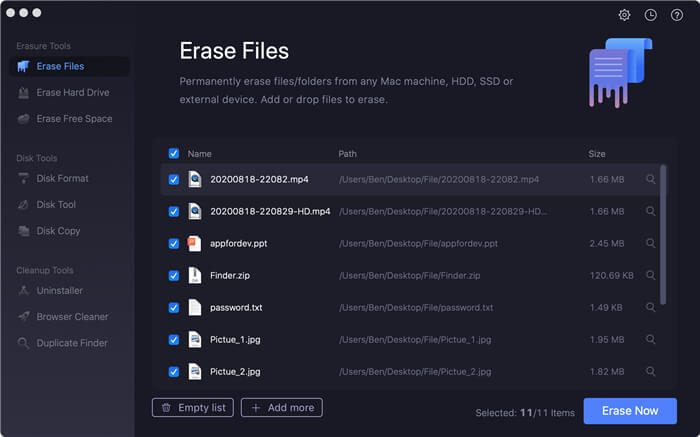 Mode 2: Delete all data from hard drive on macOS Catalina.
This disk wiper will wipe entire hard drive to permanently ease all data information on this hard drive.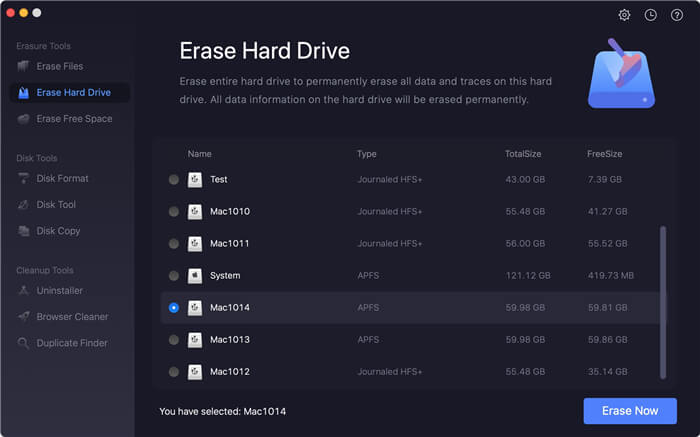 Mode 3: Prevent deleted file recovery on macOS Catalina.
This mode will securely wipe free disk space of your hard drive. All deleted files on the hard drive will be permanently erased, can't be recovered by any data recovery software.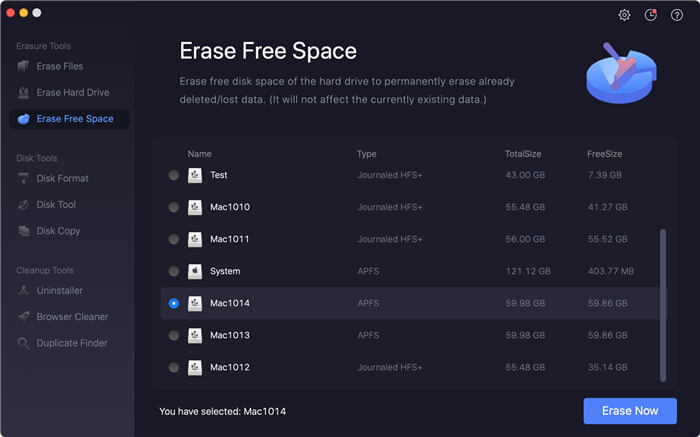 Please note that once the data is deleted by macOS Catalina file shredder, there is no way to recover the deleted files. Before you sell or donate your Mac, you can use it to securely wipe all your sensitive data. TS DataWiper for Mac also can help you format hard drive on macOS Catalina. Download it here: